So… Just spent the day trying to figure out a good way to get specific notifications for community contributions to our repos, and am looking for feedback and possible solutions. Here's what I got so far:
What's a contribution?
Just to get the ball rolling, I'm defining contributions as new PRs or new issues (not comments or replies) opened against our public, non-forked repositories, by somebody not on the team.
Gmail
…doesn't let you filter on arbitrary email headers, which rules out the handy X-GitHub-Sender header to filter out usernames in our org. (GitHub does send the full name in the From field, but not the email, which makes for a sucky, ambiguous source of truth.)
Plus, only works for notifying one person at a time.
Thunderbird
…let's you filter on X-GitHub-Sender, but it's clunky as hell. There's no way to automate fetching our org usernames. Just look at this: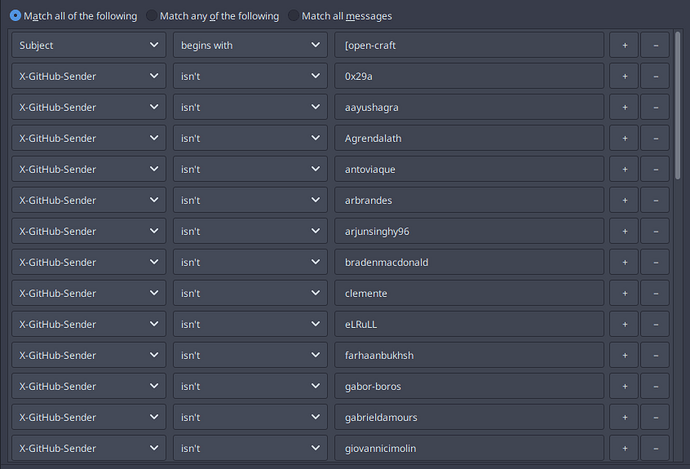 It's what I have running now, but imagine getting my epic reviewer (when I find one) to do the same.
So how about…
Creating
#contribution-notifications
There are existing Mattermost bots for github and gitlab. Both have Dockerfiles, and at least at first glance both would allow (maybe with a little hacking) the filtering necessary to separate contributions from internal chatter.
And this way, everybody can quickly see (and hopefully react

) to an incoming PR.
What do you think? Is there an easier way to do this that I haven't thought of?
C/C: @antoviaque
Log time on SE-3945