I have often thought it would be a good idea to have a strict limit on the number of epics that each person can own. So I've been doing some analysis to see if that might make sense. TL;DR: probably not.
I looked at numbers from August and September. I know those may not be particularly representative of our company over the long term, but they were the most recent complete months.
Here are all the active epics we worked on as a team in August. By "active", I mean that in Jira they were in the "In Development" or "Recurring" columns.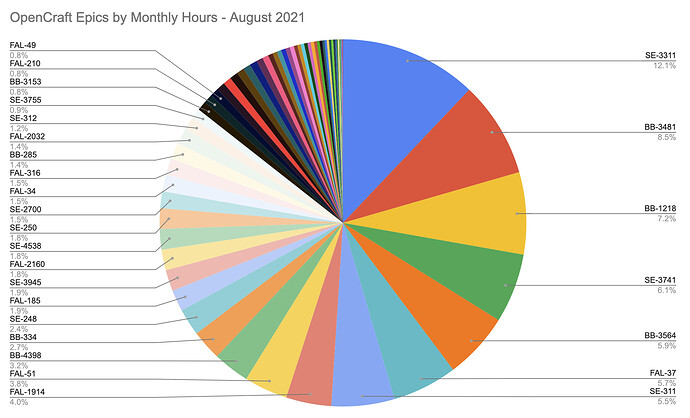 A few things I noticed right away while working on this:
The size of an epic varies hugely - the biggest epic (SE-3311) had the same number of hours as the 47 smallest epics (220 hours).
Half of our work came from seven large epics, the other half from 67 smaller epics.
None of our epics are really that big. A single full time person nominally works 40 hours week x 4 weeks = 160 hours/month, and we only had two epics that went over 160 hrs/month in Aug or Sept: SE-3311 and BB-1218. I think that in the past we've had epics that had way more hours per month.
Falcon did not have many big epics, just FAL-37 in August. In September, Falcon did not have a single epic with more than 64 hours. Put another way, no single epic took up more than 16 hours per week for Falcon in September.
EDIT: Due to the way LabXchange tasks were grouped into "Sub-epics", they aren't really showing up on here. That's why Falcon's hours looked low and seemingly had no big projects. Really there were 285h in August and 270h in September.
Nobody had more than one "big" epic. The epic owners of the "big" epics (defined as > 80 hours/month) tend to be pretty involved in those epics. Here the "%" refers to what % of the work was done by the epic owner.

SE-311 Daniel 41%
SE-3741 Adolfo 33%
SE-3311 Pooja 41%
FAL-37 Geoffrey 24%
BB-1254 Demid 78%
BB-3481 Farhaan 27%
BB-3564 Giovanni 27%
BB-1218 Kshitij 63%
BB-2761 Paulo 64%
BB-334 Piotr 64%

Many epics seem essentially dead, and had almost no hours logged in Aug nor Sept, but are still "In Development". I think we should try to close those out? (SE-1693, SE-239, SE-4568, FAL-41, FAL-42, FAL-57, FAL-47, BB-4789, BB-499, BB-681, BB-2493, BB-1496)
So given the way that epics currently work, I don't think a per-person epic limit makes sense. Epics are too diverse. However, I do think we should find ways to avoid having so many small epics as they add a lot of process overhead despite relatively little work happening on them.
I thought there might be some obvious next steps after looking at the data, but I'm not really sure. So I wanted to just post what I've found so far and see what you think. What do you think?
---
Ticket for this thread: MNG-2437. The Jira ticket also contains a link to the spreadsheet if you want to see more charts or details on the numbers.