Ticket to log time: I created SE-4944.
This is a bug report and a warning: don't trust the Committed and the Goal numbers in the sprints dashboard, especially if you're working with RECURRING tasks.
You can find your real commitment by adding up all your individual commitments after clicking your name.
Here's an example with my user: these numbers in the cell commitments page are wrong: the 34 should be showing 45.

It should show 45 because if I sum the numbers seen in my individual commitments page, they add up to 45, and they correctly reflect the reality in JIRA.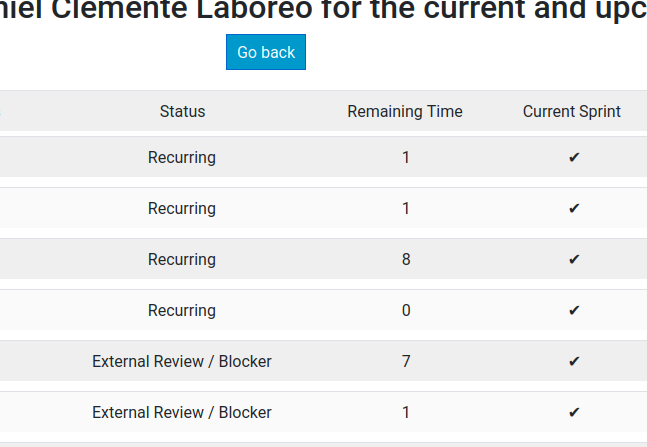 So the dashboard is showing that I have Remaining: 8 h (undercommitted), whereas in fact I'm at -3 h (overcommitted).
It happens with other members. You can do the test: manually add the numbers in your user's commitments page, and compare it to the Committed number.
Here are a few random examples taken moments ago:
| name | "committed" | sum of individual commitments |
| --- | --- | --- |
| Gábor | 48 | 97 |
| Adolfo | 34 | 36 |
| João | 44 | 55 |
| Pedro | 15 | 15 |
| Guruprasad | 19 | 21 |
| Giovanni | 41 | 42 |
| Piotr | 84 | 84 |
| Felipe | 49 | 62 |
| Samuel | 55 | 58 |
| Saksham | 5 | 13 |
Note that the magnitude of the numbers isn't very important because today we're still planning the next sprint. What's important is that for many people both numbers are different when looked through the 2 different views.
I thought that the bug was with subtasks, but it seems related to the RECURRING state instead.
For instance I'm assigned to SE-4938 which is a subtask in RECURRING state. I gave it an estimate of 100 hours. The 100 h appear at my individual commitments page:


However, the cell dashboard still shows 43 h (see 1st screenshot).
Taking Saksham's simpler case from the table above: the dashboard counts 5 committed hours, but his individual commitments show: FAL-2368 (8), FAL-2377 (1), FAL-2281 (2), FAL-2366 (2), which amounts to 13 h. FAL-2368 is in RECURRING and it accounts for the 8 h difference between 5 and 13.
There may be other issues. There's also a workaround: if you use a recurring task, add a Crafty directive [~crafty]: plan 100 hours per sprint for this task.
But we can't expect everyone to remember to use the directive instead of the Remaining estimate field.
I think that the Committed number should match with the sum of the individual commitments. If Sprints knows how to count all type of tasks etc. in one view, it should know how to do it in the other one.
The Remaining column is computed using the Committed column, so it's also showing that people have more available time than what they entered in JIRA.
This means that we tend to overcommit ourselves when we follow the dashboard's cell page. It's also hard to know who has hours available.
@Agrendalath Do we have a task in sprints v2 to make it count the tasks in the same way in both views? Should it be fixed in sprint v1 too?